Advanced Information Systems Technology (AIST)

Program

By pursuing promising information systems and technology concepts, the Advanced Information Systems Technology (AIST) program plays a key role in enabling future Earth science research and applications. Needs are identified in conjunction with a variety of programs within NASA's Earth Science Division in order to tune funding to the requirements of research and applied sciences communities. The AIST program solicits projects that are both evolutionary and disruptive, and strives to infuse them into science missions or operations within a 5-20 year timeframe.

Overall, the objectives of the AIST program are to identify, develop, and (where appropriate) demonstrate advanced information system technologies that:
Reduce the risk, cost, size, and development time for Earth science space-based and ground-based information systems,
Increase the accessibility and utility of science data, and
Enable new observation measurements and information products.
In addition to a revolving slate of concept studies, the AIST program is currently focused in two major areas. The first – New Observing Strategies – seeks to leverage the emergence of SmallSats to create constellations of instruments to examine phenomena that could not be studied before using conventional single-satellite instruments. The second – Analytic Center Framework – seeks powerful, re-usable tools to support scientific analysis of large volumes of data, often from disparate sources. Concept studies are used to formulate relevant theory, illuminate emerging concepts, and articulate requirements for highly-advanced work.

More information regarding the overall program strategy can be found here.
New Observing Strategies
Observation capabilities and tools have greatly proliferated in the last two decades providing researches with an arsenal of data-collecting possibilities. By and large, these technologies operate independently and discretely, but AIST is actively exploring new strategies to unite these technologies thereby creating a flexible constellation of observational inputs. With the goal of developing architectures that could autonomously control and consolidate data from sensor webs, small satellites, UAVs and more, AIST hopes to achieve greater performance from the tools already at our disposal.
Technology advances are creating opportunities to make new measurements and to continue others within an optimized architecture. Smallsats equipped with science-quality instruments and machine learning techniques permit handling large volumes of data. The realization that dynamic observations based on transient events is one of the factors driving autonomous systems management development. Additionally the objective of sensor webs producing data integrated from multiple vantage points, models and in-situ instruments influencing which observations to make and when to make them are all functions that will help provide new observations and a unified picture of the physical processes and natural phenomenon of Earth. New observations require technology development in areas such as system architecture security, goal directed autonomy, dynamic inter-calibration, advanced processing, as well as machine learning among many others.
Example projects working within this domain:
More information about the NOS can be found in a recent presentation: Distributed Measurements and Spacecraft Missions.
Analytic Center Framework
Significant information technologies advances over the past decade have made Earth science data more accessible, and improved the speed and effectiveness of scientific research, understanding, and discovery. Moving forward, the AIST program is developing Analytic Center Frameworks to further harmonize these tools, data, and computational resources in support of researchers across Earth science disciplines. Framework technologies that can integrate various data sources, tools, and models – regardless of their origin – will help to efficiently utilize current science data and ensure consumption of the vast data sets to be collected in the future.
The overall objectives are frameworks that:
allow seamless integration of new and user-supplied components and data;
ensure confidentiality and verifyable provenance;
reduce data/tool preparation time;
increase research capabilities and speed;
handle large volumes of data efficiently; and
provide novel data discovery and visualization tools.
In the near term, the AIST program seeks to address several questions:
What technologies and systems are already advancing these frameworks and how can these systems be integrated?
How will tools and services be developed to fit into frameworks? Can they be utilized when needed and archived when not? Can they support broad, cross-cutting requirements and also serve unique functions within specific science domains?
How can new technologies help turn data into publication-ready materials to increase paper submission rates?
Example projects working within this domain:
AIST has participated in workshops and meetings describing the Analytic Center Framework concepts. Background material can be found here.

Collaboration with three different science communities (hydrology, cryosphere, tropospheric composition) has been facilitated as reported in ESTO's 2018 Machine Learning Workshop Report and summarized in a presentation at ESIP in July 2018.
AIST Investments
The AIST program uses the NASA Research Announcement (NRA) as its investment vehicle. NRAs are used for both short and long-term research activities. Links to the full solicitations and awards are listed in the table below.

For a list of ESTO Reporting Requirements, click here.
For a full list of ESTO investments, across all program lines, visit the Solicitations page.

Examples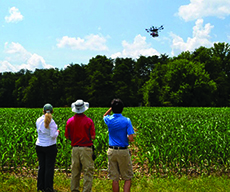 Petya Campbell of the University of Maryland, Baltimore County and NASA GSFC tested an existing spectrometer from a hexicopter platform as part of her AIST-14 project. Her team is developing and demonstrating machine learning-enhanced software that will advance the approach for semiautonomously producing and disseminating spectral data important for vegetation monitoring. Campbell has demonstrated significant progress towards autonomy of UAV measurements including the ability to adjust calibration and flight plans, literally, on the fly. (Credit: Petya Campbell, University of Maryland, Baltimore County)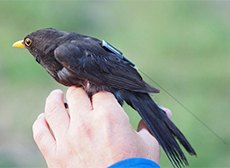 Scientists' ability to track biodiversity is an important tool for monitoring ecosystem health, understanding species life cycles, and even predicting natural disasters. Currently, differences in observational methodology and types of data gathered are preventing scientists from achieving a holistic picture of global biodiversity change. William Jetz at Yale University is leading a project that will create an open source platform to synthesize biodiversity observations with MODIS and climate data. This new system will increase the ease of use of remote sensing information as applied to ecology and global change research by providing access to fused data and tools. (Image credit: Max Plank-Yale Center for Biodiversity and Global Change)