Early Technology Developments for the NISAR Mission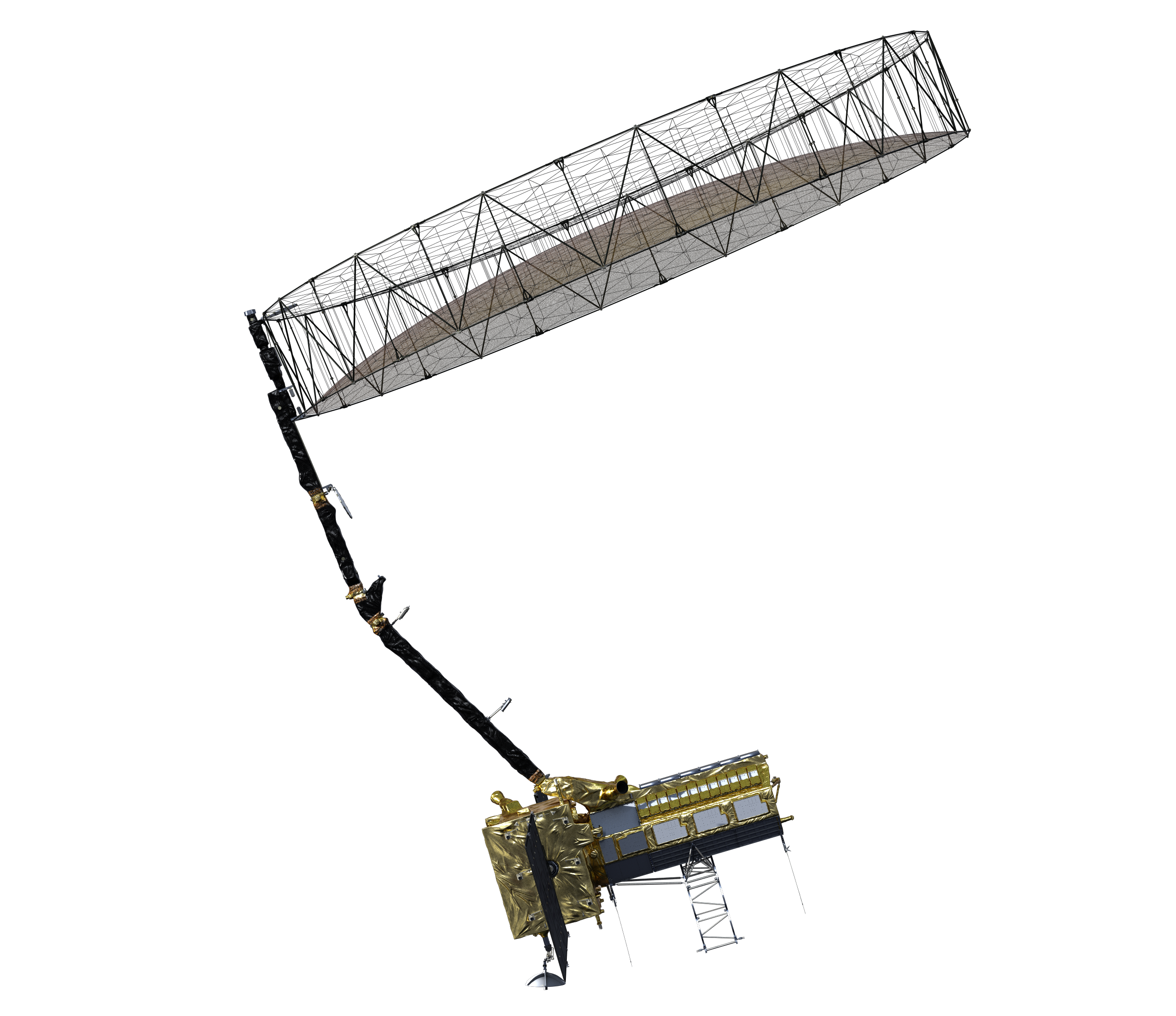 The NASA-ISRO SAR (NISAR) mission, slated to launch in January 2024, is a joint effort between NASA and the Indian Space Research Organization (ISRO) that will measure a broad range of features on Earth's surface, from glaciers and ice sheets to the dynamics of earthquakes and volcanoes.
To make these measurements, NISAR will collect data in two microwave bandwidth regions: L-band and the S-band. NASA is providing the mission's L-band synthetic aperture radar, a high-rate communication subsystem for science data, GPS receivers, a solid-state recorder and payload data subsystem. ISRO is providing the spacecraft bus and the S-band radar as well as the launch.
Several ESTO projects have helped pave the way for NISAR:
UAVSAR
Scott Hensley, JPL
2003 Instrument Incubator Program award
An airborne precursor to NISAR, the Uninhabited Aerial Vehicle Synthetic Aperture Radar (UAVSAR) instrument informed NISAR in several ways. The NISAR L-band radar feed aperture and its corresponding RF distribution network are based on the UAVSAR design. NISAR has also adapted UAVSAR's transmit beamformer network design, power supply design, and controller design. UAVSAR will also serve as a calibration-validation platform for NISAR.
T/R Modules
Wendy Edelstein and James Hoffman, JPL
Advanced Component Technology awards in 2002, 2005, 2008, and 2010
Beginning in 2002, a series of component technology projects developed the sophisticated Transmit/Receive (T/R) modules needed for a spaceborne L-band radar. These efforts produced the overall module design, digital calibration techniques, and the high-power amplifier that were adopted by the NISAR mission.
On-Board Data Processing
Yunling Lou, JPL
2008 Advanced Information Systems Technology (AIST) award 
A 2008 information systems technology award has helped inform NISAR mission strategies for onboard processing and autonomous data acquisition. Originally intended to support the DESDynI mission concept, the L-Band SAR Onboard Processing project developed new FPGA-based data processing hardware with autonomy-enabled software to perform data acquisition on-demand. The system was demonstrated on UAVSAR flights, reducing downlink data volume by a factor of 10 or more.
Computing
Paul Rosen, JPL
AIST awards in 2008 and 2011
The Integrated InSAR Scientific Computing Environment (iISCE) is a cloud-based SAR processing framework that will provide a number of tools for the processing of NISAR data, including the production of image data, interferometric and polarimetric processing, science algorithms for specific use cases, and calibration/validation. Developed and tested on existing radar instrument data, iISCE's functionalities will be available for scientists to interrogate NISAR data, either on their local computing devices or through cloud services.
Smart Tasking
Kathleen Jones, JPL
2019 AIST award 
The Smart Tasking disaster response system, a prototype urgent response tasking request system suitable for use by multiple NASA spaceborne missions, has been adopted by the NISAR Mission System as the interface for rapidly evolving hazards. Managed by the NISAR Science Data System, the Smart Tasking system enables full automation of request processing and instrument retaking, and could be extended to support multiple missions or satellite constellations.
Data Analysis
Andrea Donnellan, JPL
AIST awards in 2005, 2008, and 2011
GeoGateway, formerly known as QuakeSim, is a web-based science gateway that provides tools for scientific discovery, field use, and disaster response using Interferometric SAR (including from UAVSAR) and Global Positioning System data integrated with earthquake faults data sets, seismicity data, and models. GeoGateway products are widely used – by the US Geological Survey, the State of California, and others, as well as by academic researchers – to access, analyze, and interpret geodetic data, and the system is poised to take advantage of NISAR mission data.