A multi-year airborne science campaign that seeks better measurements and forecasts of air quality got a new partner this week. The newly operational Geostationary Trace gas and Aerosol Sensor Optimization (GEO-TASO) instrument, flying onboard the NASA HU-25C Falcon aircraft, is teaming up with the existing DISCOVER-AQ campaign airborne instruments to improve air quality measurements.
DISCOVER-AQ, which stands for Deriving Information on Surface conditions from Column and Vertically Resolved Observations Relevant to Air Quality, is a four-year airborne campaign that is studying techniques to measure pollution near the Earth's surface. The September 2013 flights out of Ellington Field, TX, are designed to pass over air quality ground measurement sites near Houston, TX. Prior research flights were conducted over Washington D.C. and Baltimore in June/July 2011 and over the San Joaquin Valley, CA, in January/February 2013. The ultimate goal of the campaign is to enable a path to reliable air quality measurements of the lower atmosphere from space.
The GEO-TASO instrument, developed by ESTO Principal Investigator James Leitch at Ball Aerospace, is a nadir-viewing UV-Vis spectrometer that measures aerosols and trace gases like ozone and formaldehyde. Originally conceived to demonstrate the air quality measurements called for by the Geostationary Coastal and Air Pollution Events (GEO-CAPE) decadal survey mission concept, GEO-TASO is now also a precursor test-bed for the Tropospheric Emissions: Monitoring of Pollution (TEMPO) mission, the first Earth Venture Instrument (EV-I) mission awarded by NASA.
GEO-TASO had its first test flights in July 2013 on board the Falcon. On route to Ellington Field, GEO-TASO performed additional tests and gathered data over most of the flight path, including target sites for coal power plants near Atlanta, GA. The instrument will fly higher and faster than the other DISCOVER-AQ instruments and will offer a satellite-analog measurements to complement other measurements and to advance mission readiness of the TEMPO retrieval algorithms.
For more on DISCOVER-AQ visit the mission website at:
https://www.nasa.gov/mission_pages/discover-aq/index.html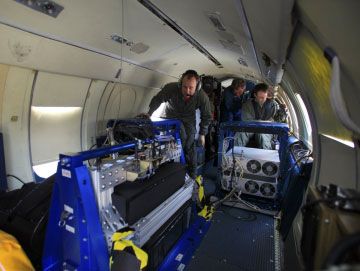 Tom Delker (left) and Jeremy Craner (right) from Ball Aerospace with NASA Langley's Les Kagey (center), installing the GEO-TASO instrument on the NASA Falcon in July 2013.
(Image Credit: NASA/David C. Bowman)


The view during a test flight on Saturday 9/14/13. The campaign repored good data in spite of the approximately 50% cloud cover, including over target areas.
(Image Credit: NASA)